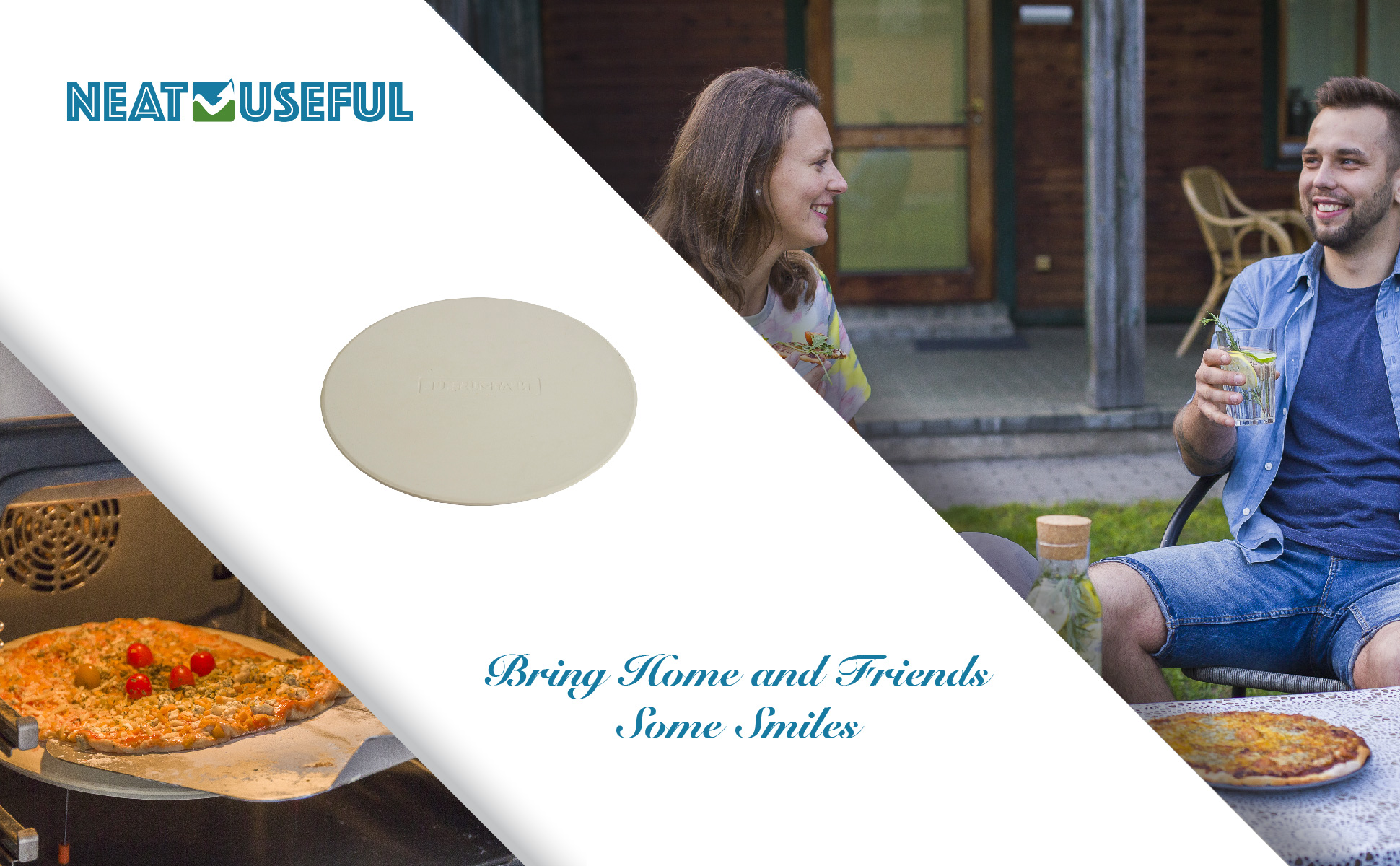 TRYING TO CREATE THE PERFECT HOMEMADE PIZZA?
Whether you're at home just hanging out with your friends, or celebrating a birthday or other special occasions, it's never a bad idea to pick up the phone and have pizza delivered. However, an even better idea might be to make your own pizza right in your own kitchen! The only things standing between you and your dream artisan pizza–aside from ingredients–are the necessary tools to make it.
This Pizza Stone by neatNuseful will let you make delicious pizza for yourself, your family, or your friends!
---
EVENLY & THOROUGHLY COOKED PIZZA
Our stoneware for pizza and other baked goods is made of cordierite and a kind of clay called kaolin. These natural materials allow for heat energy to be absorbed and evenly distributed throughout your pizza. They are porous and draw moisture from the dough. This is what gives your pizza crust that perfect, scrumptious crisp that is pretty difficult to achieve with just a regular sheet pan!
EVENLY & THOROUGHLY COOKED PIZZA
SLEEK DESIGN
Our pizza stoneware, with its angled edges, is the first of its kind. The intuitive conical shape allows you to easily slide your fingers under the stone to pick it up from your oven without too much fuss.
THE RIGHT SIZE
It measures 12.6 inches in diameter, giving your pizza or other baked goods enough room. This way, you can make a pizza large enough to share with family and friends!
THE RIGHT THICKNESS
At .5" the stone has just the right bulk–not too dense or thin. This allows it to retain more heat between uses, and not take so much time to preheat. Cook more pizza faster!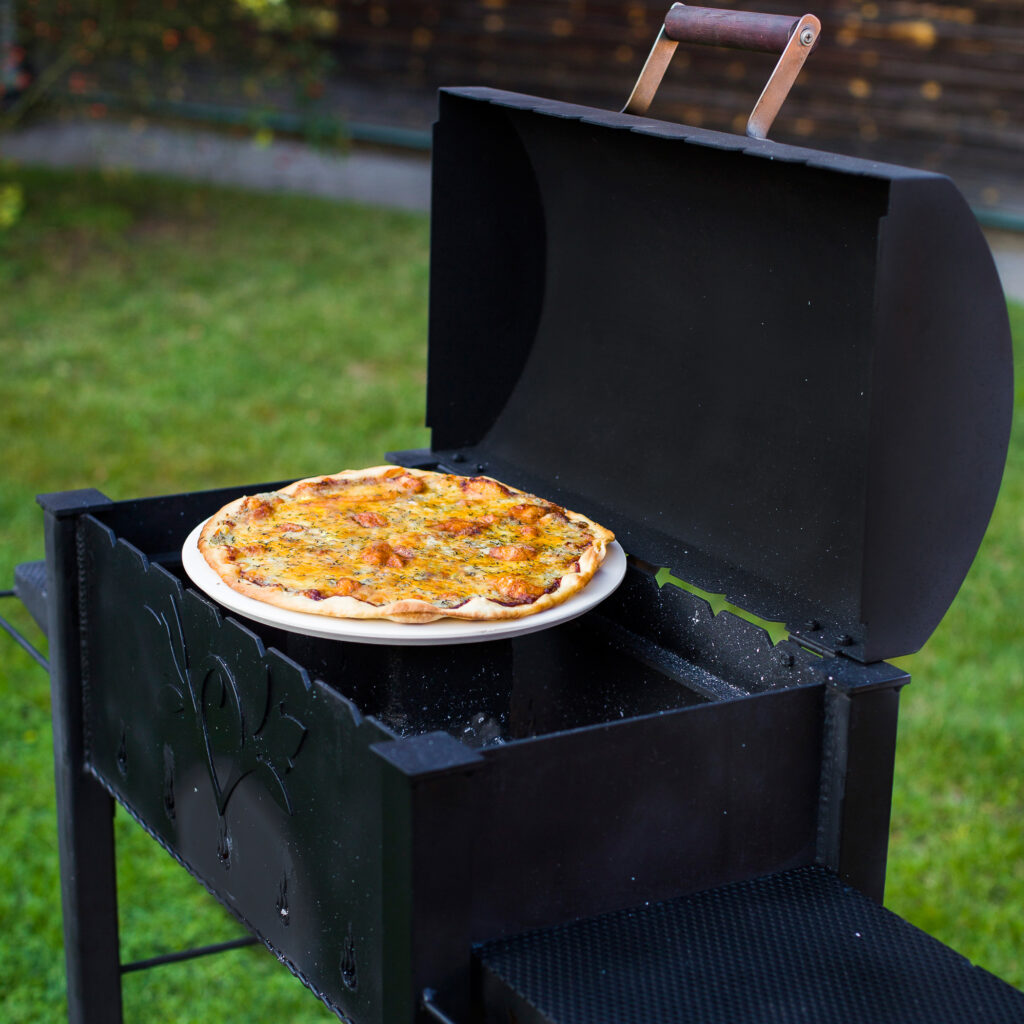 EFFORTLESS USE & UPKEEP
FIRST USE: The brand new stone may have an initial odor from production. First, wipe it clean with a damp cloth. Next, bake out the stone in the oven at 465 °F (240 °C) for 30 minutes. It will then be odorless and ready for use, waiting for you to slide on your dough with a pizza peel.
USUAL USE: Simply preheat the stone in the oven at 465 °F (240 °C) for about 20-30 minutes. Then, slide your pizza dough on with a peel.
Over time, through repeated use, stains, marks, and color changes will appear. This is normal and won't affect the quality of the stone or the taste of your food in any way.
SOME DOS & DON'TS
DO preheat the stone before use and DO let it dry completely if it's been soaked in water so food doesn't stick to the surface. Drying normally takes 6 days, or just an hour when dried in the oven.
DON'T use soap or cleansers for washing–water will do, after scraping off debris.
DON'T expose to direct flame or put it directly on charcoal or the stove. DON'T use it for overly fat or greasy food which will cause smoking, odors, or stains.
---
A MULTIPURPOSE KITCHEN TOOL
There are so many other uses to our handy kitchen stoneware than making pizza. Use it warm up pita bread, to cook quesadilla, or to bake cookies and other pastries. You can even make your own crackers and biscuits using our pizza stone. You can also toss it inside your grill during your barbecue. However, please note that while placing the stone inside a charcoal grill will not damage it, it will turn it black.
DEPENDABLE GERMAN DESIGN
You deserve only the best tools to aid your culinary projects in the kitchen, and we're delighted to offer you value for your money–nothing less. From the natural materials used down to the convenient shape, our pizza stone boasts exceptional quality with its sleek, efficient German design. Our pizza stone is something that you will be using a variety of ways and for a long time in your kitchen.
A GIFT FOR THE COOKS & BAKERS
Got a friend or someone in the family who spends a lot of time whipping up delicious meals in the kitchen? This pizza stone will make a great present for an upcoming birthday, for Christmas, or even for a housewarming party. A multifunctional kitchen accessory is always a foolproof present, especially for someone who is always working on their next culinary masterpiece.